Attraction Magazine – Issue 001: Creativity | CREATIVE DIRECTION, DESIGN
Attraction is an annual magazine for the appreciation of visual curiosity. The magazine covers art, creative direction, audiovisual art, installation, photography, ceramics and sculpting to name a few. Attraction is a canvas for creative play. It aims to inspire, associate and cultivate a more flourishing ground for the art of creating while affirming the community.
In the first issue of Attraction Magazine we talk about creativity and feed our curiosity with visual fireworks. Between the covers we have in-depth interviews with artists which are accompanied with a sketchbook, comic strips, an essay on commercial art, quirks and collections, photo essays, a short story and a custom made sticker sheet. The first issue Creativity was released in December 2020.
Designed and published by Veli.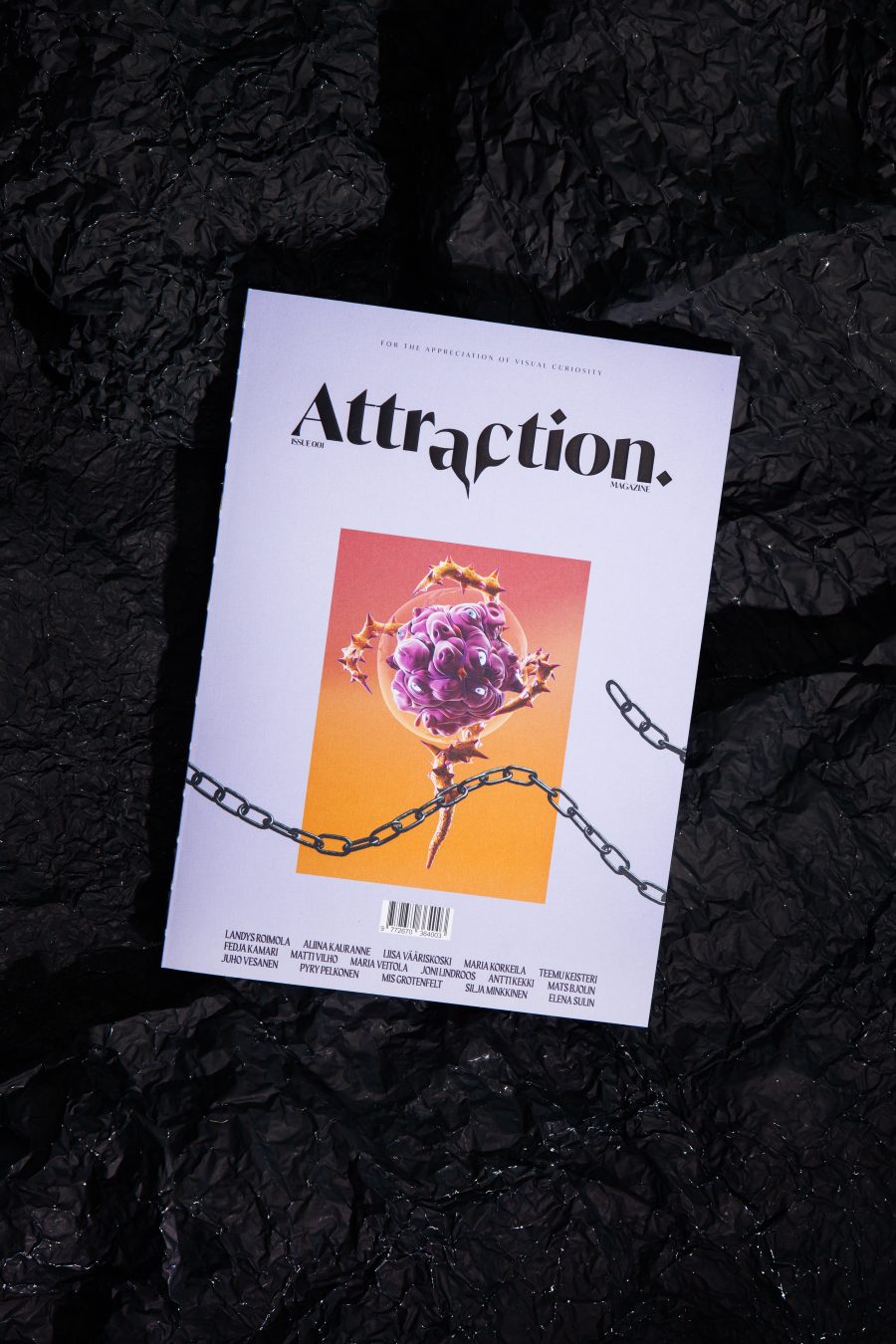 Attraction Magazine – Issue 002: The Director Issue | CREATIVE DIRECTION, DESIGN
Attraction Magazine's second issue focuses on the world of Directors. Through interviews, visual essays, and reports, the reader can explore the world of directors, discover the directors' takes on their respective industries and grand matters. 
In this issue, you find established directors telling their stories, such as Anton Tammi, who recently won "The Video of The Year" at the MTV Music Video Awards and various other prizes for his work for The Weeknd. Ezra Miller, who's multidisciplinary work has gotten him clients like Alexander Wang and Nike, as well as a possibility to create an immersive A/V live set for the infamous DJ and producer Objekt. Choreographer and director Ima Iduozee talks about directing movement, while the founders of The Community, a Paris based art collective and gallery share their story. This issue also features Helen Korpak, Auden Bui, David Chao, Erwin Laiho, and more.  This second issue, The Director Issue, was released in August 2021.
Designed and published by Veli.