Kanto is a regenerative farm founded by three friends in 2022. They draw inspiration from their community and regenerative worldview.
We were tasked to create a visual identity as well as draw a social media strategy and visual library to help them spread the word. We approached the task with an earthy colour palette and sophisticated yet approachable typeface. We designed the layouts to communicate their daily life at the farm as well as educative facts about regenerative farming. 🌿
Visual Identity
While creating the identity for Kanto, we took a deep dive in the world of regenerative farming in attempt to understand it better. We realised that regenerative farmers aim to work with nature, rather than against it, to create a healthy and productive agricultural system that benefits both the environment and the people who depend on it. From there were born a variety of geometrical shapes, illustrating that synergy between humans, animals and nature in general.
These shapes add playfulness to the identity and allow to structure and enhance the brand materials.
Along these shapes, the other main graphic element is the typeface: Neue Montreal, by the foundry Pangram Pangram. We opted for timeless timeless, grotesque font that worked for both print and online materials to elevate the overall feeling of the identity as well as providing a font that has a versatile use.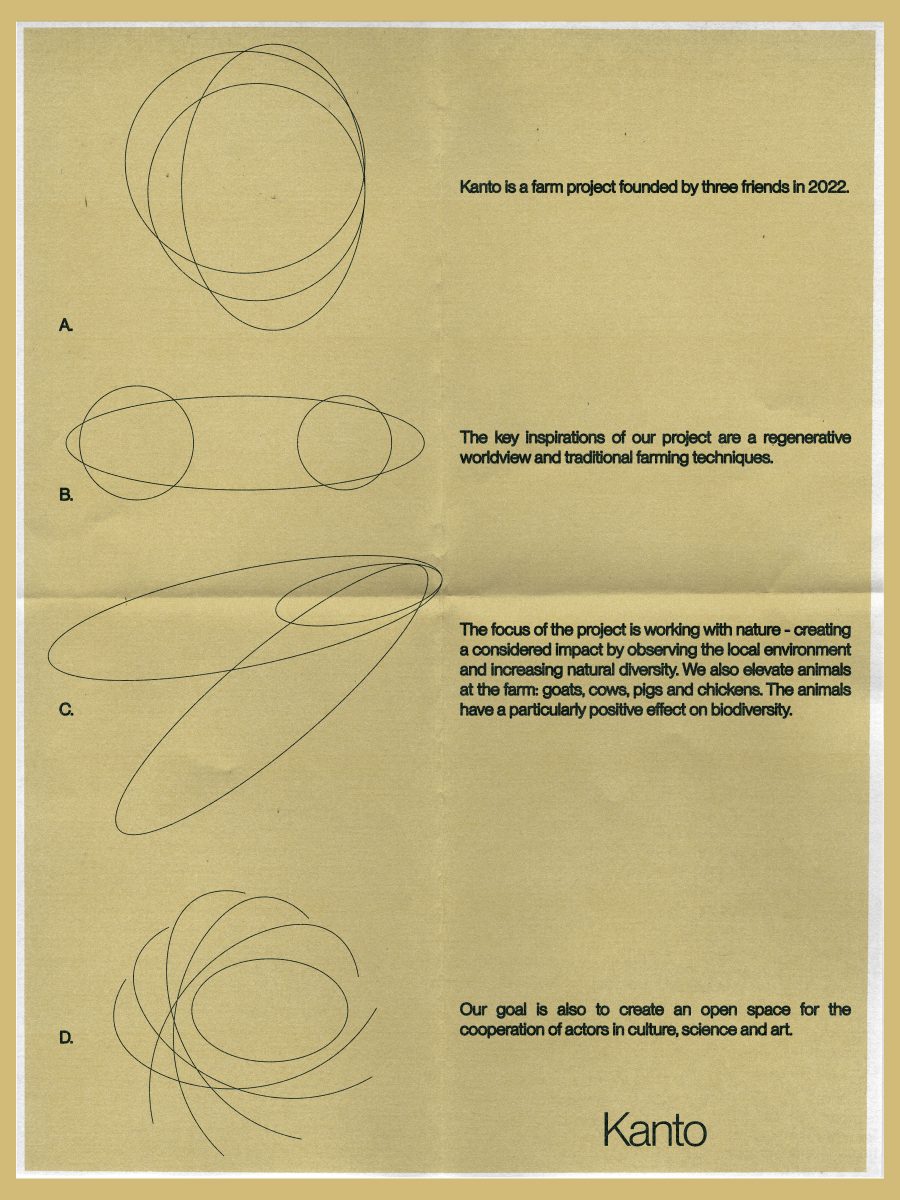 Social Media Visual Strategy & Template Editor Solution
Kanto was in need of a social media visual strategy along the visual identity. With a focus on educating and showing the life at the farm, we created different types of posts for them. First, there is the educational content, that is graphic design heavy. It is completed by direct photos and videos from the life at the farm, shot on phone, in order to keep it as simple and natural as possible. Finally, there is photography done by professionals that makes it way on the feed. With a schedule of posting 3 times a week, the aim is to increase awareness and educate the audience.
As part of the strategy, we have also designed various different visual templates that can be used on social media to educate the audience about the Kanto and regenerative farming in an engaging and playful way. These templates include graphics, photos, and videos that highlight different aspects of the life at the farm and the goals and impact over the years.
In order for them to be able to design their educative content with minimal help, we engineered a solution that already includes all the variations of content layouts, where the images and text simply need to be edited in. Just like that, the social media posts are ready to be exported and share across platforms.
By using these visual templates and following the social media strategy, the goal is to effectively communicate the value and importance of Kanto to a wider audience on social media platforms. This can help to increase awareness and engagement with the project, and ultimately lead to more support and participation from interested stakeholders.